Sweet Christmas Treats
Hang on for a minute...we're trying to find some more stories you might like.
Reindeer Treats
Ingredients:
square pretzels
regular pretzels
rolos
M&Ms
Directions:
Preheat the oven to 230.
Get out a cookie sheet and place parchment paper on it, then place the square pretzels onto the sheet. Next, unwrap the rolos and set them on top on the square pretzels.
Place them in the oven from 2-3 min.
Cut the regular pretzels in half and get the M&Ms ready to place on the treats.
Place the m and m on the rolo and the cut pretzels on the side, now you're done.
Christmas Light Cupcakes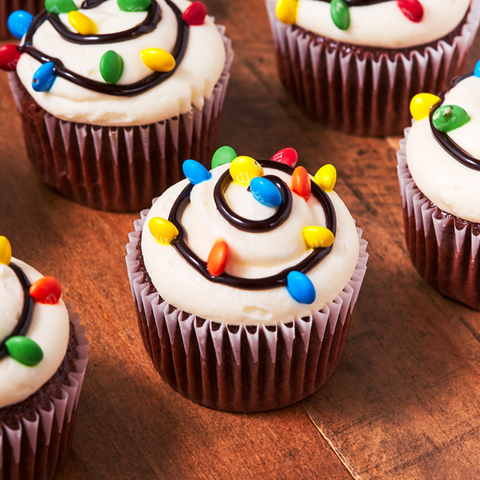 Ingredients:
devil's food cake mix, plus ingredients called for one box
1 1/2 c. heavy cream
1 (8 oz.) block of cream cheese, softened
1 c. granulated sugar
1 tsp. vanilla extract
1/4 tsp. salt
black decoration gel
mini M&Ms
Directions:
Preheat oven to 350° and line two muffin tins with cupcake liners. Make cupcake batter according to package instructions and fill liners 3/4 full with batter. Bake until a toothpick inserted in middle comes out clean, 18 minutes. Let cool completely.
Make cream cheese frosting: In a large bowl, beat heavy cream until stiff peaks form. Set aside. In another bowl, beat together cream cheese, sugar, vanilla, and salt until light and fluffy. Gently fold in whipped cream.
Transfer to piping bag or large Ziploc bag. Frost cupcakes, making sure they are a good height. Trace a black line around  frosting with decorating gel. Stick M&Ms along the black line, imitating rainbow lights.
Christmas Confetti Cookies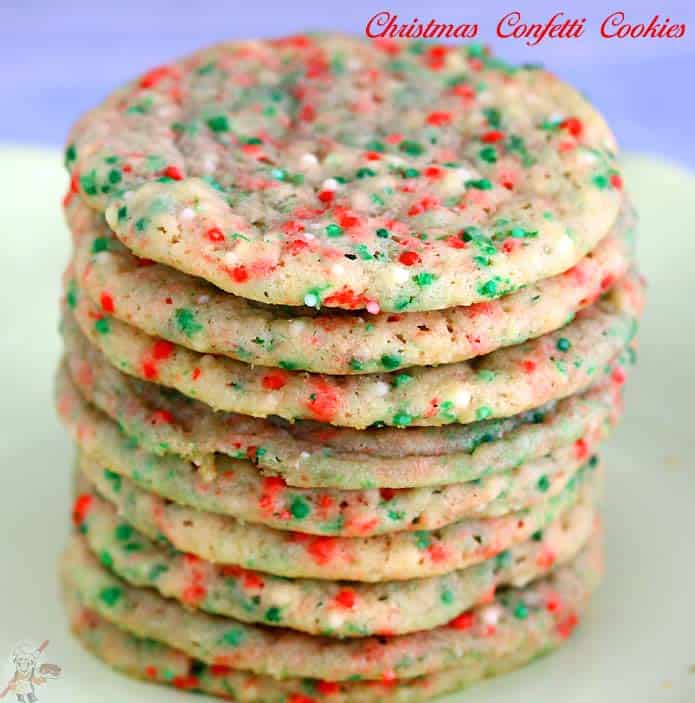 Ingredients:
1/2 cup

unsalted butter, softened

3/4 cup

granulated white sugar

1 and 1/2 teaspoons

Ener-G egg replacer

3 tablespoons

water

1 and 1/2 teaspoons

vanilla extract

1 and 1/2 cups

all-purpose flour

2 teaspoons

cornstarch

1/2 teaspoon

baking soda

a pinch

salt

1/2 to 3/4 cup

sprinkles
Directions:
In a bowl sift together the flour, cornstarch, baking soda, salt and keep it aside.
In another large bowl beat together the butter and sugar until smooth. It will look a bit dry. Now add Ener-G, water and vanilla extract and beat well again until it's light and fluffy, for at least 5-7 minutes.
Now stir in the flour mix and combine well. Also include the sprinkles. Mix everything well enough. The dough will be sticky. You cannot bake it immediately. The dough has to be chilled for at least 2 hours before you can bake it. (More about this in My Notes)
After about 2 hours remove the dough from the fridge. Leave it at room temperature for about 10-15 minutes so that you will be able to scoop out the dough. Use about a tablespoon of dough for each cookie. Place it on a lightly greased cookie sheet and flatten in very lightly. (See My Notes)
Meanwhile preheat the oven at 350F/180C.
Once the cookies are ready on the sheet put it in the oven and bake it exactly for 8-9 minutes. Definitely not more than.
Remove the cookie sheet from the oven and let it cool on a wire rack for about 10 minutes for it to set completely. Then transfer the cookies from the sheet to the wire rack for it to cool completely before you can store it in an air-tight container.